Pandemi Sürecinde Spor Salonlarında Egzersiz Yapan Kişilerde Gıda Takviyesi Kullanma Durumunun İncelenmesi

Abstract views: 1103 /

PDF downloads: 592
Keywords:
Egzersiz, Pandemi Süreci, Beslenme, Gıda takviyesi
Abstract
Amaç: Çalışmada pandemi sürecinde spor salonlarında egzersiz yapan kişilerde gıda takviyesi kullanma durumu incelenmiştir.
Yöntem: Çalışma Artvin ve Kars ilinde özel spor salonlarında pandemi sürecinde egzersiz yapan gönüllü 153 kişiyle yapılmıştır. Anket formu 27 soru olup ilk 17 soru kişisel bilgi ve diğer 10 soruda gıda takviyesi ile ilgilidir. Veriler frekans analizi, ortalama, minimum maksimum değer, standart sapma ve parametrik olmayan bulgular için Ki-kare testi ve Mann- Whitney U ile değerlendirilmiştir.
Bulgular: Katılımcıların pandemi sürecinde gıda takviyesi kullanma durumlarına bakıldığında; %58.8'inin kullanmamış, %41.2'sinin ise kullanmıştır. Cinsiyete göre; kadınların %26'sı ve erkeklerin %37'si, yaşa göre; 21-30 yaşta %38.5,  31-40 yaşta %43.1 ve 41-50 yaşta %47.1'i, eğitim durumlarına göre; lise %38'i, önlisans %47.1'i ve lisans mezunlarının %40.6'sı gıda takviyesi kullanmaktadırlar. Katılımcıların  %50.32'si bağışıklık sistemini güçlendirmek, %27.09'u sağlığını korumak, %26.45'i enerjik hissetmek, %23.87'si kilo kontrolü ,%23.22'si demir veya vitamin eksiklikleri ve %20.64'ü kasları güçlendirmek için kullandığını gözlenmiştir. En fazla vitamin D kullanılmıştır (n=42).
Sonuç: Pandemi sürecinde katılımcıların %58.8'inin herhangi bir gıda takviyesi kullanmadığı, %41.2'sinin ise kullandığı tespit edilmiştir. Pandemi sürecinde hastalıktan korunmak için güçlü bir bağışıklık sistemine sahip olmak gerekmektedir. Bu bağlamda doğru ve doktor kontrolünde kullanılan gıda takviyelerinin sağlıklı beslenmeye yardımcı olacağı düşünülmektedir.
References
Atalay, D., ve Erge, HS (2018). Gıda takviyeleri ve sağlık üzerine etkileri. Food and Health, 4(2), 98-111. Doi: 10.3153/FH18010
Petroczi, A., Taylor, G., ve Naughton, DP (2011). Mission impossible? Regulatory and enforcement issues to ensure safety of dietray supplements. Food and Chemical Toxicology, 49, 393-402.
Kılıç Kanak, E., Öztürk, S., Özdemir, Y., Asan, K., ve Öztürk Yılmaz, S (2021). Gıda takviyeleri kullanım alışkanlıklarının değerlendirilmesi. NÖHÜ Müh. Bilim. Derg., 10(1): 168- 177. doi: 10.28948/ngmuh.783613 168.
Ekenci, G., ve İmamoğlu, AF (2002). Spor İşletmeciliği. Ankara: Nobel Yayın Dağıtım.
Uğur, E., ve Baysaling, Ö (2002). Herkes için spor: Vücut geliştirme, fitness ve formda kalma. İstanbul: İlpress Basım ve Yayın.
Özdemir, G (2010). Spor dallarına göre beslenme. Spormetre Beden Eğitimi ve Spor Bilimleri Dergisi, Vol (1), 1-6.
Baysal, A (1990) Beslenme. Hacettepe Üniversitesi Yayınları, (5. Baskı) Ankara.
Ahmadpoor, P., ve Rostaing, L (2020). Why the immune system fails to mount an adaptive immune response to a Covid -19 infection. Transpl Int, Apr 1.
Moynihan, AB., Van Tilburg, WA., Igou, ER., Wisman, A., Donnelly, AE., ve Mulcaire, JB (2015). Eaten up by boredom: consuming food to escape awareness of the bored self. Front Psychol, Apr 1,6,369.
Who (2020). ''Food and Nutrition Tips During Self-quarantine'', Erişim Tarihi: 2. 5.2020. http://www.euro.who.int/en/ health-topics/health-emergencies/coronavirus-covid-19/ technical-guidance/food-and-nutrition-tips-during-selfquarantine.
Singhal, T (2020). A review of coronavirus disease-2019 (Covid-19). The Indian Journal of Pediatrics, 87(4),281-286.
Caccialanza, R., Laviano, A., Lobascio, F., Montagna, E., Bruno, R., Ludovisi, S., ve Iacona, I(2020). Early nutritional supplementation in non-critically ill patients hospitalized for the 2019 novel coronavirus disease (Covid-19): Rationale and feasibility of a shared pragmatic protocol. Nutrition, 110-835.
Beck, MA (2007). Selenium and vitamin E status: impact on viral pathogenicity. The Journal of Nutrition, 137(5), 1338- 1340.
Li, X., Geng, M., Peng, Y., Meng, L., ve Lu, S (2020). Molecular immune pathogenesis and diagnosis of Covid-19. Journal of Pharmaceutical Analysis. 10(2), 102-108.
Qin, C., Zhou, L., Hu, Z., Zhang, S., Yang, S., Tao, Y., Xie, C., Ma, K., Shang, K., Wang, W., ve Tian, DS (2020). Dysregulation of immune response in patients with Covid-19 in Wuhan, China. Clinical Infectious Diseases. https://doi.org/10.1093/cid/ciaa248
Gleeson, M(2007). Immune function in sport and exercise. J Appl Physiol, 103(2), 693-699.
McDowall, JA (2007). Supplement use by young athletes. Journal of Sports Science and Medicine, 6(3), 337-342.
Acar Tek, N., ve Pekcan, G (2008) Besin destekleri kullanılmalı mı. Ankara: Sağlık Bakanlığı Yayınları.7-17.
Özbekler, TM (2019). Değişen beslenme alışkanlıkları perspektifinde takviye edici gıdalar: tüketiciler ne kadar bilinçli. Social Sciences Studies Journal, 5, 6866-6882.
Maughan, RJ., Greenhaff, PL.,ve Hespel, P (2011). Dietary supplements for athletes: emerging trends and recurring themes. J Sports Sci., 29 Suppl 1, 57-66
Eskici, G (2020) . Covid-19 pandemisi: karantina için beslenme önerileri. Anadolu Kliniği Tıp Bilimleri Dergisi, 25(1). doi: 10.21673/anadoluklin.722546.
Baltacıoğlu, M.S. (2019). AkdenizÜniversitesi Hastanesi aile hekimliği polikliniğine başvuran 18 yaş üzeri hastalarda gıda takviyesi kullanımı ve hastaların bu konudaki bilinç düzeyi. Akdeniz Üniversitesi, Tıp Fakültesi, Aile Hekimliği Anabilim Dalı, Yüksek Lisans Tezi, Antalya.
Oruç Güler, ÖE., ve Anul N (2020) Spor salonunda spor yapan kişilerde gıda takviyesi kullanım durumunun saptanması. Sağlık ve Yaşam Bilimleri Dergisi, 2(2), 43-48. Doi: 10.33308/2687248X.202022178 43
Argan, M., ve Köse, H (2009). Sporcu besin desteklerine yönelik tutum faktörleri: fitness merkezi katılımcıları üzerine bir araştırma. Spor Bilimleri Dergisi, 20(4),152-164.
Bailey, RL., Gahche, JJ., Miller, PE., Thomas, PR., ve Dwyer, JT (2013). Why US adults use dietary supplements. JAMA Int. Med.,173(5), 355-361.
Burnett, AJ., Livingstone, KM., Woods, JL., ve McNaughton, SA (2017). Dietary supplement use among Australian Adults: Findings from the 2011-2012 national nutrition and physical activity survey. Nutrients, 14, 9(11). doi: 10.3390/nu9111248.
Ock, SM., Hwang, SS., Lee, JS., Song, CH.,ve Ock, CM (2006). Dietary supplement use by South Korean adults: Data from the national complementary and alternative medicine use survey (NCAMUS) in 2006. Nutr Res Pract., 4(1),69-74.
Sobal, J., ve Marquart, LF (20049. Vitamine/mineral supplement use among high school athletes. Adolescence, 29(116), 835-843.
Blendon, RJ., DesRoches, CM., Benson, JM., Brodie, M., ve Altman, DE (2001). Americans' views on the use and regulation of dietary supplements. Arch Intern Med.,161(6), 805-810.
Khoury, GE., Ramadan, W., ve Zeeni, N (2016). Herbal products and dietary supplements: A cross-sectional survey of use, attitudes, and knowledge among the lebanes population. J Community Health, 41, 566–573. Doi: 10.1007/s10900-015-0131-0
Coşkun, F., ve Turhan, H (2010). İstanbul'da vitamin kullanım alışkanlıkları ve bu alışkanlıkları etkileyen faktörler üzerine bir araştırma. Marmara Eczacılık Dergisi,14, 21-28.
Devecioğlu, G (2020). Ondokuz Mayıs Hastanesi aile hekimliği polikliniğine başvuran 18 yaş ve üzeri bireylerde gıda takviyesi kullanım durumları ve sağlıklı beslenme davranışları. Ondokuz Mayıs Üniversitesi, Tıp Fakültesi, Aile Hekimliği Anabilim Dalı, Yüksek Lisans Tezi, Samsun.
Alowais, MA., ve Selim, MAEH (2019). Knowledge, attitude, and practices regarding dietary supplements in Saudi Arabia. Journal of Family Medicine and Primary Care,8(2), 365.
Kayğusuz, Ş., ve Karagün, E (2021). İstanbul Avrupa yakası fitness antrenörlerinin tükenmişlik, stresle başa çıkma ve yardım arama tutumları. Uluslararası Toplum Araştırmaları Dergisi, 17(35),127-147.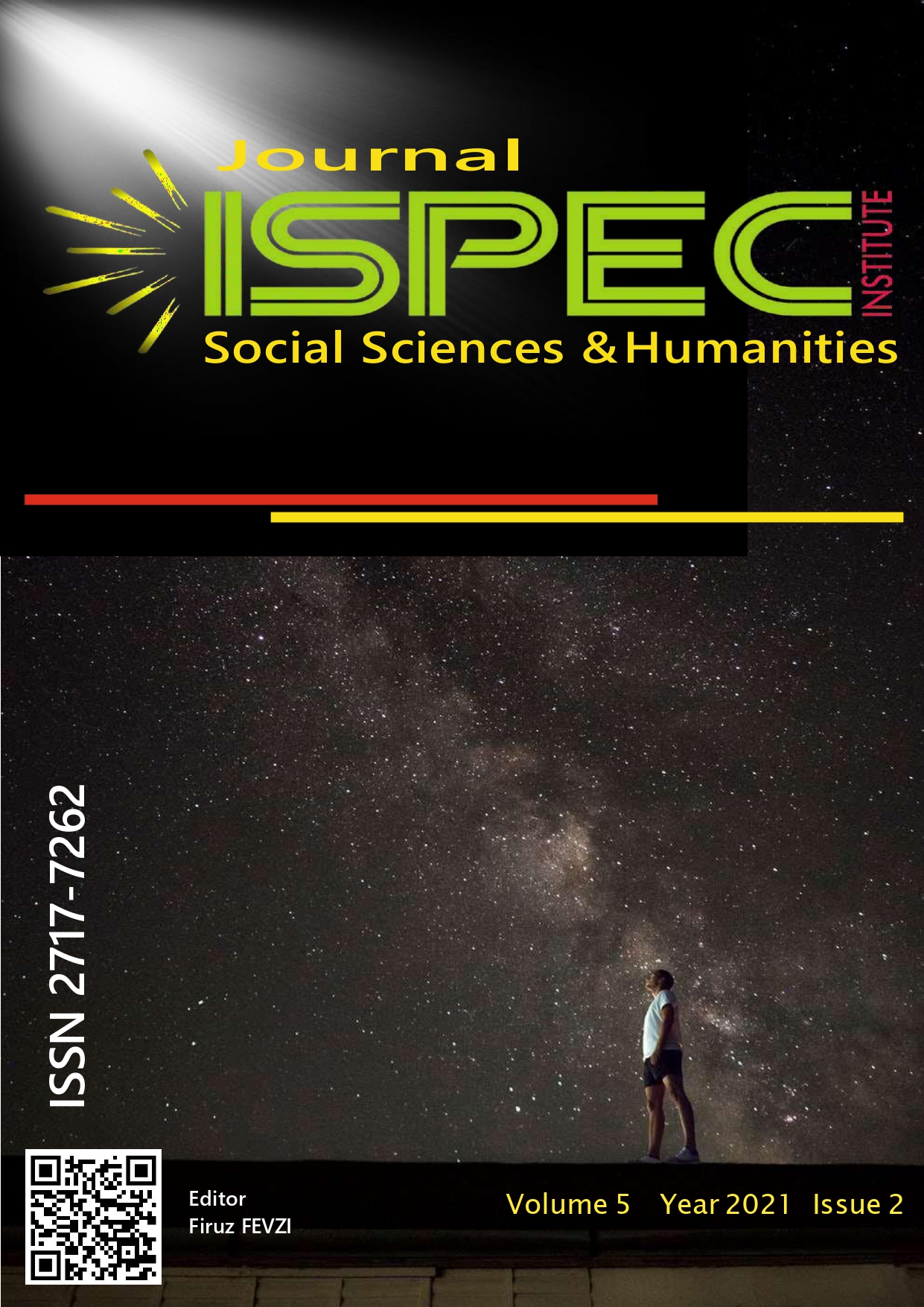 Downloads
How to Cite
SAMAR, E. (2021). Pandemi Sürecinde Spor Salonlarında Egzersiz Yapan Kişilerde Gıda Takviyesi Kullanma Durumunun İncelenmesi. ISPEC International Journal of Social Sciences & Humanities, 5(2), 189–203. https://doi.org/10.46291/ISPECIJSSHvol5iss2pp189-203
License
Copyright (c) 2021 ISPEC International Journal of Social Sciences & Humanities
This work is licensed under a Creative Commons Attribution-NonCommercial-NoDerivatives 4.0 International License.