Analysis of PHD and Master's Theses on Cost Accounting with Content Analysis

Abstract views: 208 /

PDF downloads: 137
Keywords:
Cost Accounting, Content Analysis, Postgraduate Theses
Abstract
More and faster customer requests are sent by the senders together with the customers. Cost accounting is an analytical solution that guides system decision makers in applications used in service applications. It represents the cost of the product and service and the cost to the profit budget. It is thought that the low cost and high cost of the enterprises are subject to the examinations of "cost accounting". Content analysis on this cost accounting. "Included in the analysis in higher education institutions within the scope of cost accounting. 1977-2022" was taken from 15 doctorates and 106 postgraduates. It has been tabulated by dividing it into certain budgets obtained. 24% of the attractiveness of the research can be accessed. It is stipulated to apply as a research method at a high rate of 60% of the completed theses. Costs of accounting systems and their review, which should be at most conceptual. The field of application is the manufacturing enterprise/SME in the first place.
References
Akdoğan N., Gündüz E. ve Sevim A. (2015). Maliyet muhasebesi, A.Ü. Açıköğretim Fakültesi Yayınları. No. 1699, Eskişehir.
Otlu, F. ve Çukacı Y.C. (2006). "Genel imalat maliyetlerinin dağıtımında faaliyet esasına dayalı maliyetleme sistemi ve çevresel maliyetlerin değerlendirilmesi", İktisadi ve İdari Bilimler Dergisi, 20 (1), ss.393-411.
Altuğ, O. (2006). Maliyet muhasebesi, Türkmen Kitabevi, İstanbul.
Koçak, A. ve Özgür A., (2006) "İçerik analizi çalışmalarında örneklem sorunu". Selçuk İletişim Dergisi, 4 (3), s. 21-28.
Çilingir, A. (2017) "İletişim alanında içerik analizi yöntemi kullanılarak yapılan yüksek lisans ve doktora tezleri üzerine bir inceleme", Erciyes İletişim Dergisi Akademia, 5 (1), s. 148-160.
Alkan İ., Karaca Ç., Saler M. H., Doruk O. ve Uysal T. (2007). Maliyet muhasebesi, Can Matbaacılık, İstanbul.
Temel, E. (2020). "Üretim işletmelerinde maliyet muhasebesi kullanım düzeyinin ölçülmesine yönelik bir araştırma: Tokat ili örneği", Afyon Kocatepe Üniversitesi Sosyal Bilimler Dergisi, 22/4: s. (1107-1123).
Alkan, G. (2014). Türkiye'de muhasebe alanında yapılan lisansüstü tez çalışmaları üzerine bir araştırma(1984-2012). Muhasebe ve Finansman Dergisi, (61), 41-52.
Köroğlu Ç. ve Dendeş A. (2017). "Üretim işletmelerinin maliyet hesaplama yöntemlerinin incelenmesi: Aydın ili örneği", MCBÜ Sosyal Bilimler Dergisi, 15/4: ,s. (265-284).
Coşkun A. ve Şen O. (2020), " Üretim işletmelerinin maliyeti ve yönetim muhasebesi bilgi düzeyinin ölçülmesi: Ankara sanayi odası 1. organize sanayi bölgesindeki üretim işletmeleri üzerine bir çalışma", Bilge Uluslararası Sosyal Araştırmalar Dergisi, 4/1: s. (32-37)
Yükseköğretim kurumu tez merkezi https://tez.yok.gov.tr/UlusalTezMerkezi/
Köksalanlar A. A. ve Soykök B. (2021). İznik İle İlgili Lisansüstü Tezlerin Bibliyometrik Profili. Uluslararası Toplum Araştırmaları Dergisi. 38 (17), 5503-5524.
Öğülmüş S. (1991). İçerik Çözümlemesi. Ankara Üniversitesi Eğitim Bilimleri Fakültesi Dergisi. 24 (1), 213-228.
Karagün V. (2020). Urfa İli Üzerine Yazılan Lisansüstü Tezlere Yönelik Bibliyometrik Bir İnceleme. Econharran Harran Üniversitesi İİBF Dergisi. 4 (6), 2020, 21-33.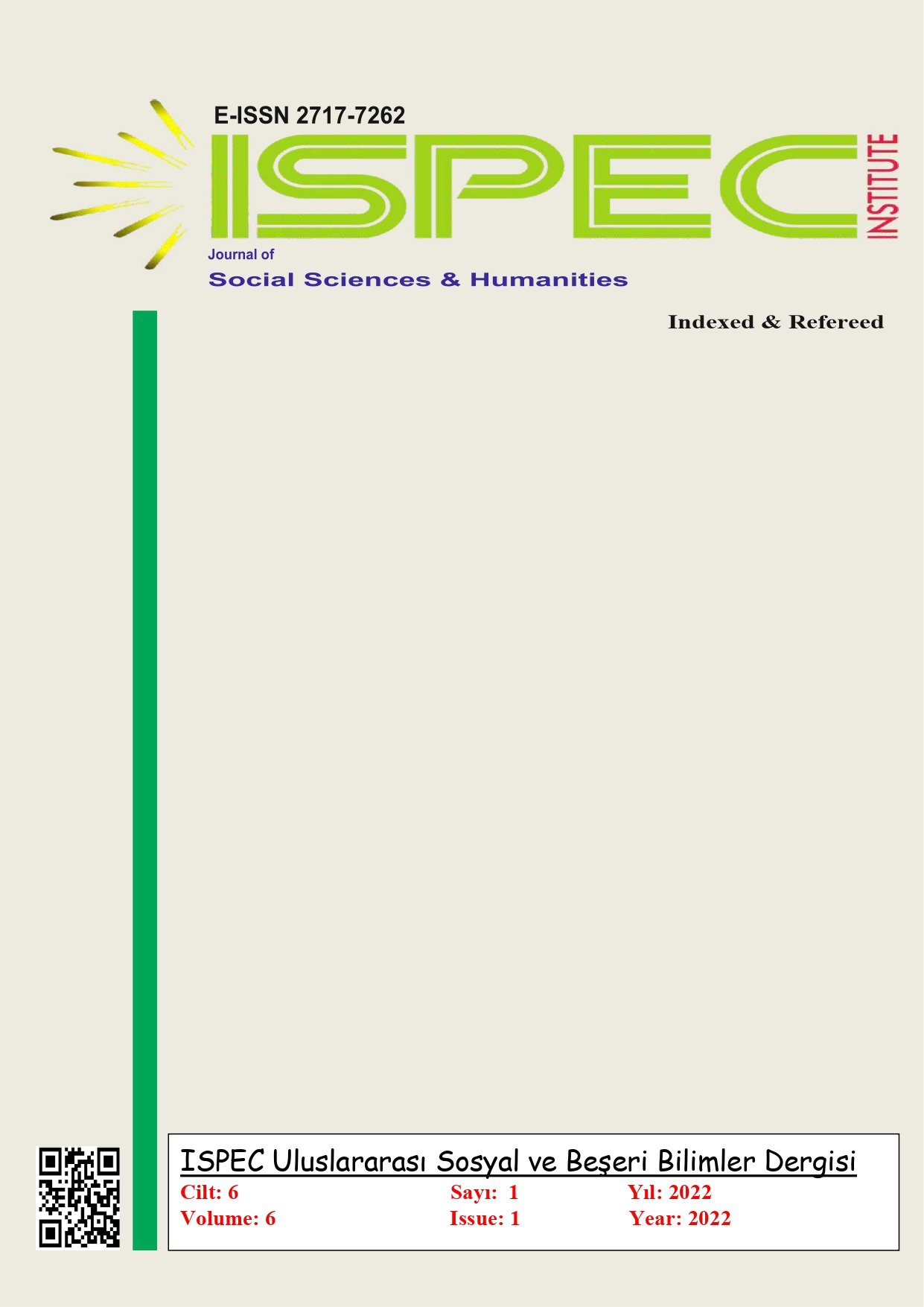 Downloads
How to Cite
DOĞAN, B. (2022). Analysis of PHD and Master's Theses on Cost Accounting with Content Analysis. ISPEC International Journal of Social Sciences & Humanities, 6(1), 92–105. https://doi.org/10.5281/zenodo.7225986
License
Copyright (c) 2022 ISPEC International Journal of Social Sciences & Humanities
This work is licensed under a Creative Commons Attribution-NonCommercial-NoDerivatives 4.0 International License.