Mesut Ozil Transfer of Fenerbahçe Sports Club from Corporate Image Window

Abstract views: 385 /

PDF downloads: 385
Keywords:
Fenerbahce, Mesut Ozil, Corporate Image
Abstract
The purpose of this study is to examine the Mesut Özil Transfer, which Fenerbahçe sports club made in 2021 and has an undeniable impact worldwide, from the framework of its Corporate Image. Corporate image is the reputation of the firm with a variety of audiences that is important to it. The concept of corporate image is a concept that is frequently encountered in today's world and is of central importance by both institutions and companies. The subject of the research has been shaped within the framework of corporate image due to the increase in the importance of the concept of corporate image in recent years and the fact that the media dimension is intertwined with the corporate image, as well as sports clubs use transfer policies as a tool, especially in terms of corporate image. Under the Sports Clubs' use of transfers as a tool within the framework of Institutional Image; In addition to increasing club revenues, clubs are willing to increase their recognition level. In order to reach the purpose of the research effectively and to shed light on the scientific world in the future studies, the compilation method, one of the types of research designs, was applied and a theoretical analysis method was used. As a result of the analysis of the findings of the research, the increase in the value of Fenerbahçe sports club thanks to the transfer of Mesut Özil in the world stock markets, as well as club revenues, uniform sales rates, licensed product sales rates and finally the increase in the number of followers of social media accounts and the revenues from social media channels due to this increase. It is concluded that it has increased.
References
Aydın M., "Uluslararası İlişkilerde Yaklaşım, Teori ve Analiz," A.Ü. SBF Dergisi (Prof. Dr. Oral Sander'e Armağan Sayısı) C. 51, No. 1-4, 71-114, 1996.
Gökçe Ateş Ç. (2016), Kurumsal İmaj Yönetimi –Kurumsal İmajın Çalışanlar Tarafından Algılanması –Havayolu İşletmesi Örneği (Yayımlanmış Yüksek Lisans Tezi), Beykent Üniversitesi Sosyal Bilimler Enstitüsü İşletme Yönetimi Anabilim Dalı İnsan Kaynakları Ve Örgütsel Değişim Bilim Dalı,İstanbul.
Gültekin, B., Halkla İlişkilerde Etkinlik Yoluyla İmaj Oluşturulması, Ankara,2006
İnternet Kaynakları;
https://turkish.aawsat.com/home/article/2748361/fifa-mesut-%C3%B6zil-fenerbah%C3%A7e transferini-sayfas%C4%B1nda payla%C5%9Ft%C4%B1?gclid=CjwKCAjwgZuDBhBTEiwAXNofRJFYB_tR6eW0SN4Ic6yfrhacYczuW-yxreX8kCga4kdRyDEwo4QgRoCoEYQAvD_BwE Erişim Tarihi: 02.04.2021., 14:45
https://www.fotomac.com.tr/galeri/fenerbahce/fenerbahcenin-mesut-ozil-transferi-dunya-basininda/2 Erişim Tarihi: 02.04.2021., 14:45
https://tr.qaz.wiki/wiki/Kicker_(sports_magazine) Erişim Tarihi: 02.04.2021., 14:45
https://ajansspor.com/haber/adim-adim-mesut-ozil-transferi-4-ayri-ucakla-londra-seferi-510235, Erişim Tarihi : 09.04.2021,12:44
https://skor.sozcu.com.tr/2021/01/18/fenerbahce-hisselerinde-mesut-ozil-etkisi-1556740/,Erişim Tarihi : 09.04.2021,12:45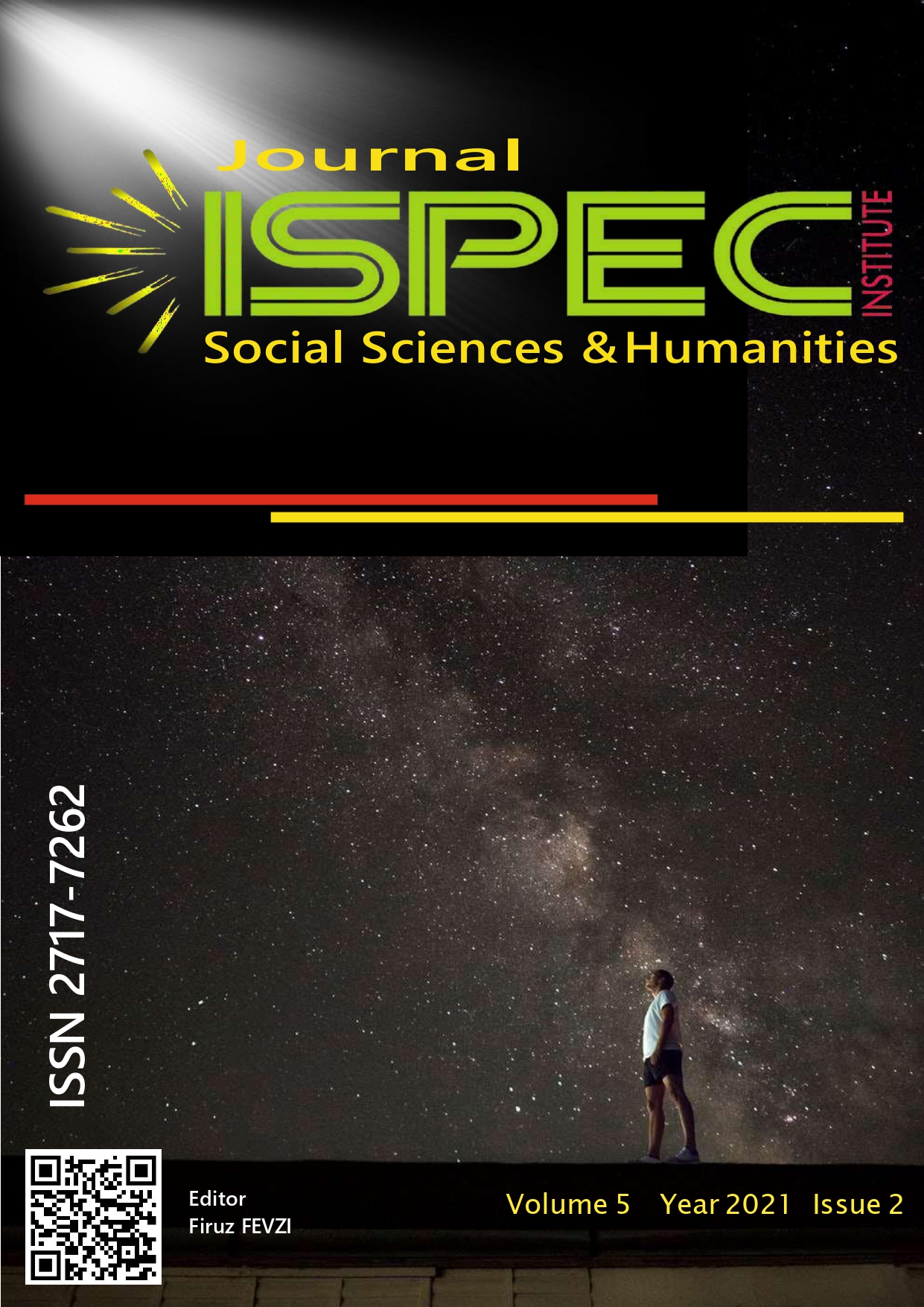 Downloads
How to Cite
HOROZOĞLU, M. A., & ÇAVUŞOĞLU, S. B. (2021). Mesut Ozil Transfer of Fenerbahçe Sports Club from Corporate Image Window. ISPEC International Journal of Social Sciences & Humanities, 5(2), 99–113. https://doi.org/10.46291/ISPECIJSSHvol5iss2pp99-113
License
Copyright (c) 2021 ISPEC International Journal of Social Sciences & Humanities
This work is licensed under a Creative Commons Attribution-NonCommercial-NoDerivatives 4.0 International License.