Case Report On Dreams According to Jungyan Analytical Psychology Theory; Message Of Dreams
CASE REPORT ON DREAMS ACCORDING TO JUNGYAN ANALYTICAL PSYCHOLOGY THEORY; MESSAGE OF DREAMS

Abstract views: 160 /

PDF downloads: 76
Keywords:
Dream, Jung, Analytical Psychology, Symbols, Myths, Tales
Abstract
Carl Gustav Jung is a significant figure in the field of psychology, and dream studies are one of his areas of focus. According to Jung, dreams provide a window into the individual's unconscious world and hold great potential for inner exploration and interpretation. Jung argues that dreams use a symbolic language, expressing the depths of the individual's inner world. Jung utilizes several techniques in his dream work, including keeping a dream journal. Details, symbols, emotions, and events in dreams are recorded and later analyzed. Dream analysis is an approach that aims to decipher the meaning of symbols and themes in dreams. Another technique called amplification involves exploring the broader meanings of dream symbols by referring to mythology, legends, art, and literary works. Jung also believes that dreams can be explored through an active imagination process. Engaging with dream symbols and attempting to interpret them can deepen the individual's dream experience and support personal growth. Jung's dream work aims to understand the unconscious, establish inner balance, and facilitate self-realization. Exploring and interpreting the symbolic nature of dreams can help individuals delve into the depths of their inner worlds and achieve greater wholeness and awareness.
References
Akot, B. (2010). Freud'un Rüya Yorum Metodu . Dinbilimleri Akademik Araştırma Dergisi, 213 235.
Bektaş, M. (2022). Carl Guztav Jung'da Arketipsel Kavramı ve Bilinç Bilinçdışı ile Olan İlişkisi. T.C:Kırklareli Üniversitesi Sosyal Bilimler Enstitüsü Felsefe Ana Bilim Dalı.
C.G.Jung. (2019). Dönüşüm Semboller. İstanbul: Alfa Yayınları.
Çetin, Ö. (2010). Jung Psikolojisinde Rüya. T.C.uLudağ Üniversitesi İlahiyat Fakültesi Dergisi, .249-269 .
Çetindaş, D. (2021). Psikanaliz, Rüya ve Roman. Akademik Dil ve Edebiyat Dergisi, 5(4), 2859.
Çiçek, A. (2013, Kasım). Sinemada Rüya Temsili ve Gerçeklik İlişkisi,Jung Yaklaşımla. İstanbul: T.C: Maltepe Üniversitesi ,Sosyal Bilimler Enstitüsü Radyo Sinema Anabilim Dalı .
Demir, H. (2018). Bütüncül Psikoterapi Perspektifinde Rüya Analizi; Olgu Sunumu: Nergis Vakası*. Türkiye Bütüncül Psikoterapi Dergisi, 100 122.
Elıade, M. (2001). Mitlerin Özellikleri. İstanbul: Om Yayınevi, İstanbul.
Fordham, F. (2001).jung Psikolojisinin Ana Hatları. İstanbul: Say Yayınları.
Guin, U. K. (2006). Kadınlar, Rüyalar, Ejderhalar. İstanbul: Metis Yayınları.
Gülcan, C. (2020). Psikolojik Tipler ve Jung Psikolojisi Üzerine Bir Değerlendirme. KSBD, 284-297.
Jung, C. G. (2001). İnsan Ruhuna Yöneliş. İstanbul: Say Yayınları.
Jung, C. G. (2004). Eşzamanlılık Nedensellik Dış Bağlayıcı Bir İlke. Bursa: Biblos Kitabevi.
Jung, C. G. (2006). Analitik Psikoloji. İstanbul: Payel Yayınları.
Jung, C. G. (2015). Rüyalar. İstanbul: Pinhan Yayıncılık.
Jung, C. G. (2017). İnsan ve Semboller. İstanbul: Kabalcı Yayınevi.
Kavut, S. (2020). Carl Gustav Jung: Kavramları, Kuramları ve Düşünce Yapısı Üzerine Bir İnceleme. Uluslararası Kültürel ve Sosyal Araştırma Dergisi, 681-695.
Kaya, S. Ü. (2021). Dünya Edebiyatlarında Rüya Motifi: Karşılaştırmalı Bir Analiz. İstanbul: Akademi Sosyal Bilimler Dergisi.
Montangero, J. (2013). Rüyanın Psikolojisi. İstanbul: Say Yayınları.
Serrican, E. (2015). Carl Gustav Jung'un analitik psikoloji kuramındaki arketip kavramının edebiyata yansıması. International Journal of Social Sciences and Education Research.
Ukray, M. (2014). Jung Psikolojisi. Ankara: Yason Yayınları.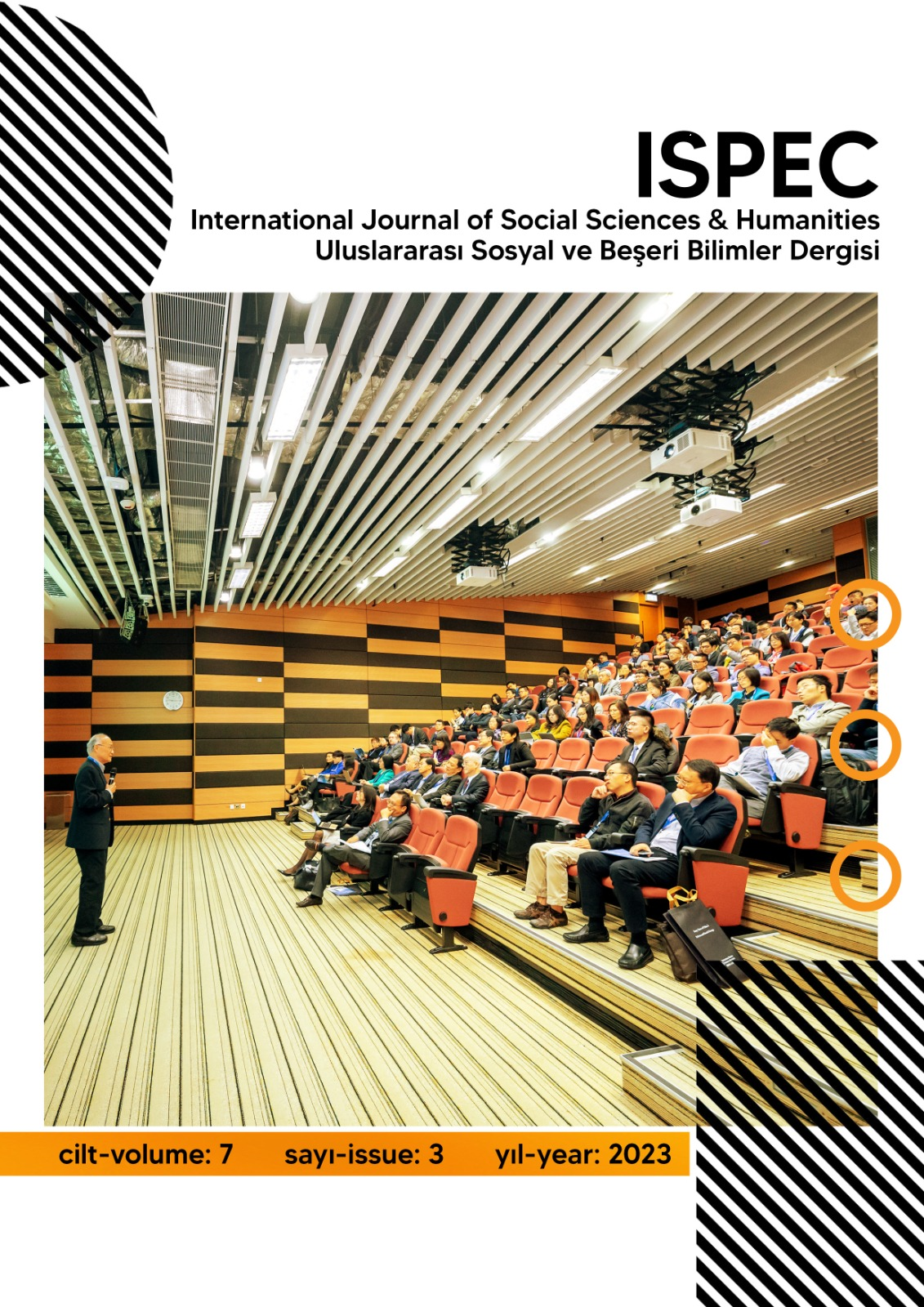 Downloads
How to Cite
Aydın, N., & KARAAZİZ, M. (2023). Case Report On Dreams According to Jungyan Analytical Psychology Theory; Message Of Dreams: CASE REPORT ON DREAMS ACCORDING TO JUNGYAN ANALYTICAL PSYCHOLOGY THEORY; MESSAGE OF DREAMS. ISPEC International Journal of Social Sciences & Humanities, 7(3), 642–658. https://doi.org/10.5281/zenodo.8356850
License
Copyright (c) 2023 ISPEC International Journal of Social Sciences & Humanities
This work is licensed under a Creative Commons Attribution-NonCommercial-NoDerivatives 4.0 International License.